Azent – Overseas Education
Azent – Overseas Education - 1st Floor, Anand Cinema Building, Kopri Colony, Thane (E), Pincode: 400603
About US
We are a one-stop-product that simplifies the overall journey and helps students fulfill their dreams. We are on a mission of disrupting the study abroad space by bringing overseas education to the fingertips of students.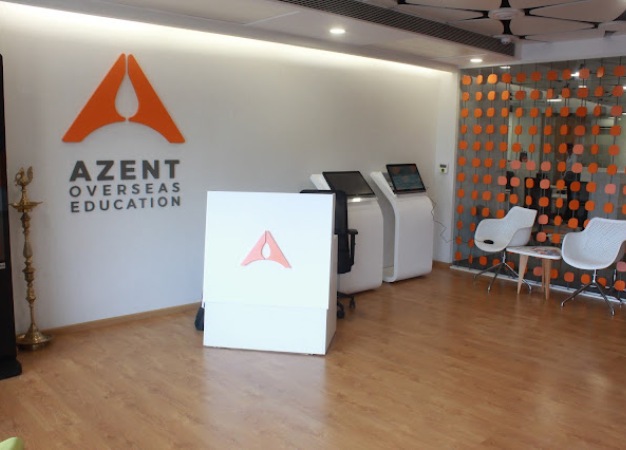 The Azent Experience
We hold your hand through the entire study-abroad journey right from university selection to applications, IELTS coaching to essay guidance, scholarships and funding advice to visas, and finally, accommodation to pre-departure preparation
Experience Centres
We have state-of-the-art Experience Centres in Delhi NCR, Jaipur, Ahmedabad, Vadodara, Surat, Mumbai, Thane, Vijayawada, Hyderabad, Chennai and Bangalore and virtual centres in Coimbatore, Kochi, Nagpur, Pune Visakhapatnam and Warangal.
Technology
Our machine-learning and AI enabled algorithms thoroughly analyze your profile and offer you best matching recommendations according to your needs. Additionally, you can also visit our offline centers to experience your dream campus with our virtual reality headsets, or use our interactive kiosks to learn more study abroad trivia, in addition to connecting with our experts at each location.
Strong University Network
Azent provides access to over 1500+ universities across 30+ universities.
Personalized Counseling
Students can connect with our counselors face-to-face, virtually on Zoom, or mobile for complete assistance.
Admission & Application Assistance
Assistance with Application, SOPs, LORs, interview preparation, visa processes. Support with education loans, scholarships and application fee waivers.
English Test Preparation
Join our IELTS batch today and get a 7+ band score with our expert faculty guidance, study material and mock tests.
Our Record
1500+ Associated Universities
75% Acceptance Rate
95% Visa Approval Rate
Top Reasons toVisit our Experience Centre
World's Finest Universities
Get an opportunity to study at the top-ranked universities of the world with some of the most qualified faculty members and excellent state-of-the-art research facilities
Personalised Shortlist by the Experts
Our Expert Counsellors thoroughly understand your profile and will give you the university shortlists based on your profile and interests.
End-to-End Admissions Support
We at Azent are committed to making your study abroad journey easy and hassle-free with cutting-edge technology and years of study abroad counselling experience.
VR Tours of University Campuses
Experience what it would like to study in a university. Explore the campus and the city that you are soon going to study in.
IELTS/TOEFL Coaching by Certified Trainers
Our Expert Trainers can help you score the required score that is required by your Dream Universities. Get Live Classes, Mock Tests and doubt solving sessions.
100% Transparency with Azent App
One App for all your study abroad needs. Browse 1.5Lakh+ courses across multiple countries, shortlist and apply to your dream universities.
Contacts
Azent – Overseas Education - Thane, Mumbai, India - 1st Floor, Anand Cinema Building, Kopri Colony, Thane (E), Pincode: 400603
Phone : Tel. +91 22 6105 4388
Website : azent.com
---
Location
---
---
Leave a Message