Menon's classes, coaching classes in thane opposite to Singhania School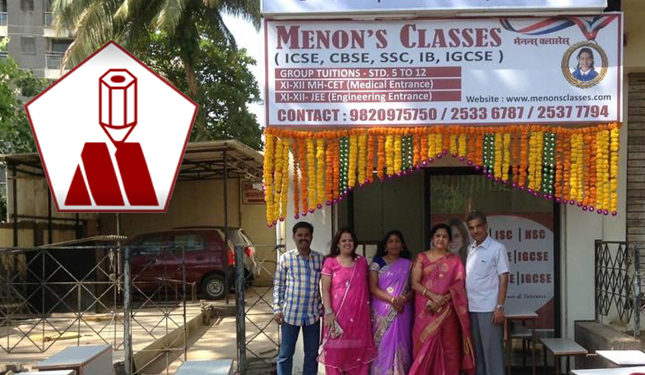 About Menon's Classes
Menon's classes has evolved into one of the top ranking educational enterprises at Thane and upholds their legacy of facilitating students in securing top grades in their pursuit towards becoming Doctors and Engineers. Their teaching methodology, their understanding of student psychology and grasp, as well as their performance centricity are unique and distinctive aspects of their service.

The endorsements from their successful students stands as their strongest testimonials. They also have exemplary credentials over the years in NEET & JEE as well. The ethos of Menon's classes is to tap into the vast reservoir of individual student capacity and invoke in them a sense of belief towards excellence and this is further augmented by their customised teaching framework.
Founder Of Menon's Classes
Mrs Rema Menon is the founder of Menon's classes. She herself has been a teacher for decades at Sulochana Devi Singhania School and her style of pedagogy, accountability, commitment and student cultivation attitude has been of inestimable value.

Mrs Menon firmly believes in forming and grooming a team of outstanding teachers who in addition to their individual knowledge, must also possess the capacity to impart this knowledge to the students in a manner that has high absorption quotient.

She has been relentless in this pursuit and this philosophy manifests at Menon's classes that she has nurtured with such care and precision. Mrs.Menon is an educationist and a devoted social worker engaged in upliftment of tribal and street children and as a true Leader always PREPARED for a noble cause.... words of Mr. S K Agarwal, President, IND. SGF , Maharashtra

REMA MENON a woman of substance , an educator who is at the forefront to bestow on the society for the little stars to shine bright in the future by showing direction. Through her social activities she is supporting the society by equipping them with opportunities....said Anil Sinha, a well wisher. Dr. Namita Shriyan , teacher said.. Menon's Classes has been the place where I could unravel my hidden talent as a teacher. It was because of Rema Ma'am that I was able to realise my potential as a teacher and educator along with being a doctor. Will always be obliged to her and MENON'S Classes for this break. One of the teacher at MENONS spoke:

In today's commercial world, Menon Classes represents few educational centres, which is a hybrid model between coaching classes and private tuitions. This essence is experienced by the successful current as well as past students.
Why I Choose Menon's Classes For My Ward?
Batches Of 5 Students
Personal care and safety
The legacy of creating more doctors and engineers continues with menons
We protect your child from frustration, failure, demotivation, insecurity and fear
We equip the students to face future challenges .
Teachers are selected with lots of care and scrutiny. they are highly qualified with deep subject knowledge and capable to make the students attentive in class to absorb the subject deeply.
Courses Offered At Menon's Classes :
ICSE & ISC, HSC, CBSE, IB, IGCSE, NEET, JEE.
New openings For:
UPSC, IAS, IPS,Banking , Railway Entrance Training.
Contacts
MENON'S CLASSES, Opp. Singhania School, Rameswar Bhavan, 1st Pokharan Rd. , Thane 400606.