Billabong High International School, Thane (BHIS, Thane) is a co-educational school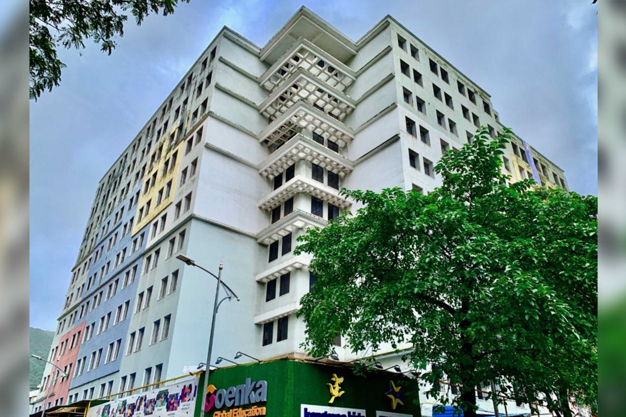 Credits : billabongthane.com
About Us
Billabong High International School, Thane (BHIS, Thane) is a co-educational school. It was established in 2006 by the Goenka Global Education, under the aegis of the Citizens Welfare Association (CWA).

In times when education is not just studying from the confines of a book, international schools have come up with raised standards of teaching. Not all learning happens within four walls, they say. This school in Thane is one of the best in its vicinity, known for its "learning with a difference" approach.

To offer world-class educational opportunities in the city of Thane, the CWA tied up with Kangaroo Kids Education Limited (KKEL) for Preschool, Primary and Secondary education. For the ninth and tenth standards, the syllabus is as prescribed by the Council for the Indian School Certificate Examinations (CISCE). As a franchise school of KKEL, the Preschool is recognized as Kangaroo Kids International Preschool and the main school is recognized as Billabong High International School.

BHIS, Thane is managed by Mr. Sudhir Goenka, a leading philanthropist and entrepreneur with a deep commitment to the promotion of quality education
Vision
Creating an expansible and sustainable global standard for holistic education using cutting edge technology and experiential learning.
Mission
To build a culture of excellence by partnering with teachers & organisations empowering students with holistic education, life skills and values that enable them to become global citizens.
Philosophy
BHIS Thane believes that all students have tremendous innate talent that should be brought forth in an inclusive manner. In keeping with this philosophy, we admit students, with a wide array of challenges
Academics
Preschool
Kangaroo Kids International Preschool is benchmarked to provide quality early education in a safe, stress-free and supportive environment. It facilitates experiential active learning, rather than rote memorization. This is achieved with an integrated, interdisciplinary and theme-based curriculum which is sequentially developed to increase in complexity.

Kangaroo Kids is the Preschool Section of Billabong High International School, Thane. It is the most sought preschool and has students coming not only from Thane, Mulund, Bhandup, Nahur but also from Dombivili, Bhiwandi and Mumbra. It enables seamless transition to the formal school from Grade 1. The curriculum is built on well researched learning theories. For parents seeking the best foundational education, Kangaroo Kids, Preschool of BHIS, Thane, has become the first choice. The school was established in July, 2006 and has completed 14 years of successful operations.

At Kangaroo Kids we believe that every child has the right to a happy childhood and that it is our most important duty to ensure that education for them is a joyful and meaningful experience. Some of our best practices are Radio Hour and Bedtime Stories.

Culminating Activities and Role play is very much a part of our preschools it enhances the public speaking skills . Our Teachers take one to one session with special children
ICSE
The Primary Section follows the ICSE Primary Curriculum designed by the Council of Indian School Certificate Examination (CISCE). The study material and curriculum support is provided by KKEL (Kangaroo Kids Education Limited). Students are assessed through non formal and stress free assessment methods of continuous and comprehensive evaluation. Engaging tasks are age-appropriate and skill–centred. Emphasis is laid on developmental attributes of listening, speaking, reading and writing along with research and inquiry skills. The students involve themselves in various activities such as Science Exhibition, Puppetry, Story-telling, Quiz, Elocution, Singing, Drawing and Painting, Craftwork and Dancing to intensify skills in different domains. Experiential learning being at its core, helps students to connect with the real world through Hands-on- Learning.
IGCSE
Billabong offers the Cambridge Primary Programme. The methodology equips students the skills they need for life, helping them achieve at school, and beyond. The Cambridge International curriculum sets a global standard for education and is recognized by universities and employers worldwide. It is flexible, challenging and inspiring, culturally sensitive yet international in approach. Cambridge students develop an informed curiosity and a lasting passion for learning. Subjects offered for Grades 1- V
ISC
Science, Commerce and Humanities streams for Grade XI & XII are offered. World Ready youngsters are nurtured by experienced subject experts. Life skills and soft skills in congruence with the job market. Experts from different fields are invited to interact with the students to give them the requirements and expectations of the industry. Career Counselling sessions both virtual and physical are shared with the students for them to attend and make informed decisions.

Academic standards are maintained by continuous weekly assessments which give ample time to students to consolidate the knowledge acquired. The schedule is notified well in advance. Internal Assessments form an integral part of the evaluation system.

Term Examinations are scheduled in September and February. Students are promoted to the next class based on their performance throughout the year and the year end exam. Promotion to the advanced grade is granted only if the student has passed in all subjects.

Students have to put in 50 hours of community service (mandatory requirement of the Board) with a recognized NGO. A project-based tour of 2-3 days is part of the study programme. Students must participate in this tour as it is not just about visiting a new place but also learning life skills. It instils in students an array of other skills such as independence, money handling, teamwork etc. Based on their learning students submit a project report.
IBDP
International Baccalaureate Diploma Programme for students in the age group of 16 years to 19 years is offered. The Programme facilitating students in 11th through 12th standard, is a two-year curriculum leading to final examinations. IBDP is a qualification that is welcomed by leading universities around the world and India. The Diploma Programme (DP) curriculum is made up of six subject groups and the DP core, comprising Theory of Knowledge (TOK), Creativity-Activity-Service (CAS) and the Extended Essay (EE). Through the DP core, students reflect on the nature of knowledge, complete independent research and undertake a project that often involves community service.

The TOK and the EE showcase not only the knowledge of the students but their repertoire of the 21st-century skills they have developed as lifelong learners. Billabong High International School, Thane aims to create a challenging, motivating and intercultural environment for students to exist in harmony and develop a sense of personal and academic excellence. Students are encouraged to be compassionate, respectful and understanding in order to contribute to the growth, welfare and development of society.

As lifelong learners, they develop the skills to understand different perspectives aspiring to become global citizens. Our learning facilitators are dedicated to providing an engaging and stimulating environment where all learners feel valued, ideas flourish and students realise their full potential. The child is at the centre of the entire teaching and learning process. At BHIS, Thane we strive to enhance the classroom experience of our students by keeping the teachers in complete sync with the latest developments in the field of education.
Academics
Pre Primary Section
ICSE
ISC
IGCSE
IBDP
ISA
Contacts
Billabong High International School Shree Nagar, Main Road No 27, Wagle Industrial Estate Thane – W, Thane – 400604.
---
Location
---